The continuous development of our program in terms of quality assurance, both in production processes as well as in our own products, is an ongoing process of harmonization with European and international standards. Thus, we manage to maintain our competitive advantage, which in many cases is a prerequisite for cooperation and a criterion for selecting our systems.
TUV AUSTRIA EN ISO 14001
The ISO 14001 Standard specifies the general requirements for the establishment of an Environmental Management System in a company and focuses on the recognition of the environmental impact of its activities in order to successfully manage them and ultimately improve its performance in this area. An ISO 14001 Environmental Management system can be implemented and then certified by all categories of organizations, regardless of their object, product or service.
TUV AUSTRIA EN ISO 9001
The new version of the ISO 9001: 2015 standard is considered the most significant change from its original version in 1987. The latest ISO measurements show, that it affects more than 1.1 million companies worldwide. This change was deemed necessary by the International Organization for Standardization (ISO) in order to better adapt the standard to a global market that is constantly changing in recent years but also to ensure that its requirements constantly reflect the needs of stakeholders.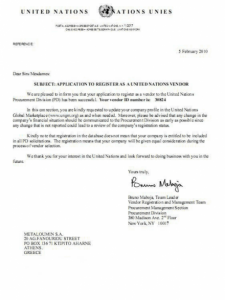 United Nations Certified Suppliers
The United Nations Secretariat Procurement Division, headquartered in New York, is responsible for providing quality services and advice on the procurement of the worldwide missions of the Organization, the regional UN headquarters and committees, courts and other UN agencies. Metaloumin has been a United Nations certified supplier since 2010.